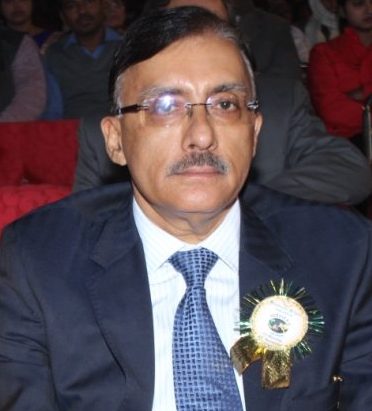 Dear Sunbeams,
The mission of Sunbeam School is specific, bold and singular. Our specificity is reflected in our students:- all academically and intellectually gifted learners. Boldness is reflected in our commitment to make the Sunbeam experience the best educational option in this region for learners and their families. Similarly, our ambition is to be recognized as a laboratory of best practices in education. The singularity of our mission is embodied in programs that are qualitatively and quantitatively distinctive in their depth, breadth, methodology and excellence.
I hope all my Sunbeams across all Sunbeam Schools enjoy the rich educational environment at all our schools ,designed to develop superior thinking skills. Students should have stimulating interaction with their intellectual peers and be encouraged to develop the skills and character traits of creative, productive, contributing members of the society. I hope all my students will be an asset to the society by being aware of their personal responsibility and be steeped in task commitment, self-discipline, independent learning, and respectful conduct.
The pages of the Almanac will keep reminding you of everything that Sunbeam stands for. Use it to optimize your education.
And yes….
"Do not go where the path may lead,
go instead where there is no path and leave a trail."
Deepak Madhok
Chairman
Sunbeam Group of Educational Institutions & CMD, DHK Eduserve
The Story of The Sunbeam Identity
(The Sunbeam Cipher)
Jai Hind !!
I am Sunbeam !!
I become your thought and your vision the moment you embrace me. I illuminate your path and guide you on your onward Journey.
I was conceptualized and put into my form in the year 1972, when Sunbeam was established and the journey there on has been tremendous.
"A single sunbeam is enough to drive away many shadows."
My innumerable rays or Sunbeams* are shaping the destiny of mankind through their diverse capabilities steeped into the spirit of Duty towards self, society and nation, Devotion towards righteous work and Discipline to walk down the right path, not getting swayed by temptations.
All Sunbeams are open books with transparency in thought and action and an honest affirmation. They are learners and keep their slates clean to constantly learn and evolve.
The Red in me is the youthful energy and vigor that I channelize into substantial output.
The Blue symbolizes trust, loyalty, wisdom, confidence, intelligence, faith and a never ending quest for perfection and excellence.
Yellow, the color of sunshine, hope, and happiness which Sunbeam spread all over.
So ... come be the Sunbeam and take forward my legacy ... Shine each day and let the world shine in your reflected glory ...
A student studying in any Sunbeam Institution or alumni is called a SUNBEAM !
'Jai Hind' - Victory be to my India: All Sunbeams live and abide by the ethos of Jai Hindi.
Sunbeam schools not only use this as a greeting but also as a way of life where all aspects of patriotism are nurtured and felt to be visible in every little act of Sunbeam. Sunbeams feel strongly for their nation and stand up proudly for it in all their acts.
Jai Hind, is more than a salutation from Sunbeams to other reiterating the pride they take of being an Indian and everything that comes along with that identity.